2018 Ram 2500 Towing Capacity and Payload Ratings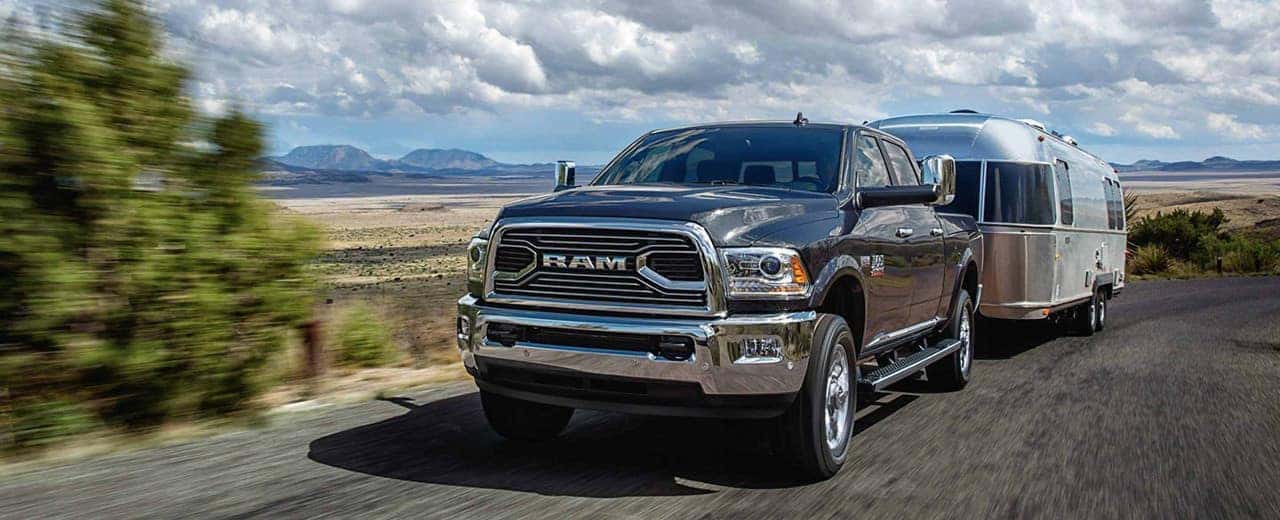 Renowned for its capability, everything from the 2018 Ram 2500 payload ratings to its towing capacity demands your attention.
2018 Ram 2500 Tow Rating and Ram 2500 Payload
6.7L Cummins Turbo DieselI6: Makes up to 370 hp and 800 lb-ft of torque. Offers a best-in-class 15,000-mile oil change interval and class-exclusive smart diesel exhaust brake. You'll tow up to 17,980 pounds and carry up to 3,160 pounds with this engine.
Heavy-Duty 6.4L HEMI V8: Uses two spark plugs per cylinder to make up to a best-in-class 410 hp and 429 lb-ft of torque. You'll enjoy a best-in-class 16,320-pound maximum tow rating and carry up to 3,990 pounds.
5.7L HEMI V8: Uses Variable Valve Timing (VVT) to deliver efficient performance alongside 383 hp and 400 lb-ft of torque. You'll tow up to 13,890 pounds and carry up to 3,060 pounds of payload.
All engines come paired to a class-exclusive available six-speed manual transmission modified for increased torque load and fitted with a wear-compensating clutch for like-new clutch pedal performance even after years of driving.
Ram 2500 Towing Features
Built around a 50,000-PSI hydroformed steel frame, the new Ram 2500 is able to handle heavy loads without complaint. It also utilizes a wide range of towing features, including:
Heavy-Duty Hooks: These heavy-duty hooks are directly mounted to the frame to provide a solid grip for heavyweight pulling.
Trailer Harness Connector: Connect your trailer's electrical system with the standard bumper-integrated trailer harness connectors.
Tow/Haul Mode Select: Use the specially engineered tow/haul mode to meet the demands of heavy-duty towing and carrying.
Whether you're hooking up a trailer for a trip from Shawnee to Midwest City or carrying heavy loads up a steep hill in Del City, the Ram 2500 can handle anything you throw at it.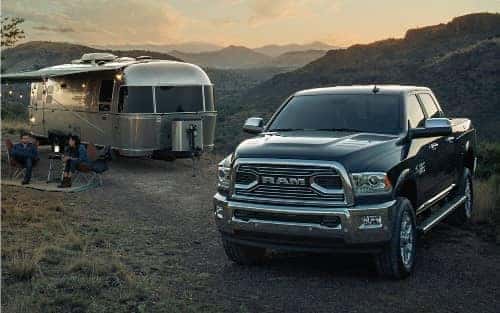 Test Drive the Ram 2500 for Yourself by Visiting AutoMax Dodge Chrysler Jeep Ram Today
Whether you want to experience Ram 2500 performance first-hand or compare it to the Ram 1500, the team here at AutoMax Dodge Chrysler Jeep Ram can help. Simply contact us today.
More About Ram 2500 Features
Renowned for its capability, everything from the 2018 Ram 2500 payload ratings to its towing capacity demands your attention. New Ram 2500 Inventory 2018 Ram 2500 Tow Rating and Ram 2500 Payload 6.7L Cummins Turbo DieselI6: Makes up to 370 hp and 800 lb-ft of torque. Offers a best-in-class 15,000-mile oil change interval and class-exclusive…

View Ram 2500 Inventory Learn More About the Ram 2500 The 2018 Ram 2500 reaches up to 410 horsepower with a gas-powered V8 engine or up to 800 lb-ft of torque with a turbo diesel V6. Explore more performance highlights at AutoMax Dodge Chrysler Jeep Ram, your Midwest City-area Ram truck headquarters. Step Up to Ram 2500 Performance Gas or…