How Long Does an Oil Change Take?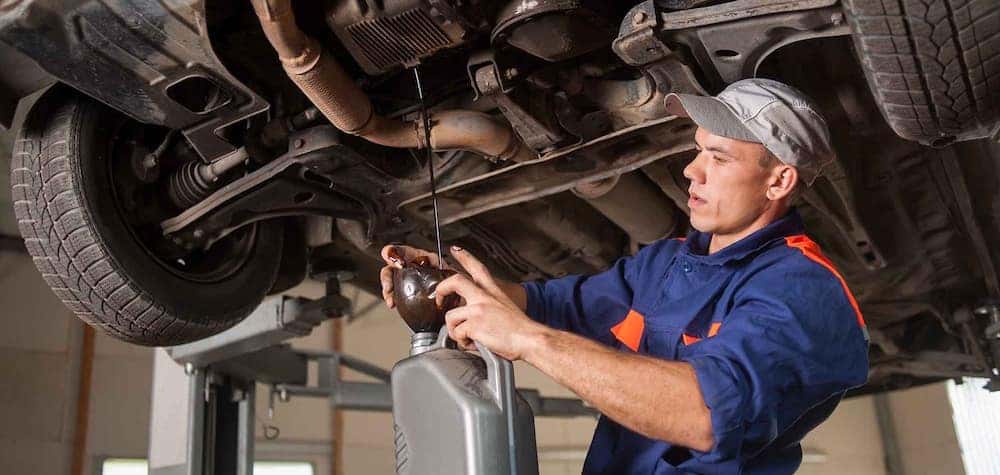 When you schedule an oil change with the AutoMax Dodge Chrysler Jeep Ram service center near Midwest City, it shouldn't take more than half an hour to complete this service. Our specially trained technicians know exactly what steps to take to ensure you're not stuck waiting around for routine maintenance.
When to Change Your Oil?
The old rule of thumb was to get your oil changed every 3,000 miles. With the more advanced technology in cars these days, you can get your oil changed every 5,000 to 7,500 miles. Some cars can even go 10,000 miles between oil changes. Be sure to check your owner's manual for the specific recommendation and to see if your vehicle requires synthetic or conventional oil.
How Long Should an Oil Change Take If I Do It Myself?
If you'd prefer to change your oil yourself in the Del City area, the amount of time it will take varies. You should budget for at least half an hour, but it could take longer if you're new to DIY oil changes. You'll need:
New Oil
New Oil Filter
New Oil Filter Gasket
Properly Sized Wrenches
Car Jack
Wheel Blocks
Rubber Mallet
Visit AutoMax Dodge Chrysler Jeep Ram for Professional Oil Changes
When it's time for an oil change, turn to the professionals at AutoMax Dodge Chrysler Jeep Ram to deliver:
Years of experience and a state-of-the-art service center experienced service team and state-of-the-art equipment allows us to work on more cars than a generic auto shop.
Service specials to help you save on routine maintenance services.
Schedule an appointment with our service center in Shawnee, or contact us with any questions about oil changes, tire rotations, or other car services. While you wait for your oil to be changed, maybe go and grab a slice at any of our favorite pizza restaurants in Shawnee!
More Service Tips From AutoMax Dodge Chrysler Jeep Ram
When you schedule an oil change with the AutoMax Dodge Chrysler Jeep Ram service center near Midwest City, it shouldn't take more than half an hour to complete this service. Our specially trained technicians know exactly what steps to take to ensure you're not stuck waiting around for routine maintenance. Schedule Service Contact Us When to Change Your Oil? The…

Schedule Service Service Department Even the best brake pads need replacement eventually, but you can expect between 30,000 miles and 70,000 miles. While that might seem like a wide range, the life of your brake pads is influenced by the type of brake pad, heat, personal driving style, and more. Find out more about the…